VILLAGE HALL UPDATE 26.1.22
The Government has announced the lifting of all Covid 19 restrictions on Thurs 26th January except the requirement to isolate if you are infected with Covid/Omicron.
Face masks will no longer be required to be worn in the village Hall or other public places although they are recommended as a 'safe behaviour'.
We now have an extended outdoor area with pergola at the rear of the Hall. Take a look if you are walking nearby. The installation of improved lighting has been agreed and we are looking at options for new outdoor furniture.
We will continue to provide hand sanitizer facilities as well as access to the Test and Trace system.
Hadstock Village Hall management committee.
As Covid restrictions are lifted we are now able to accommodate indoor events for around 40 people. After such a prolonged period of inactivity we would welcome ideas from anyone who is interested in helping to restore our Village Hall to an active community hub.
Please direct your thoughts and propositions in the first place to either Kirsty or myself.
Lynn Nuttall  – lynnn50@hotmail.com
Kirsty Hutchison – kahutch01@gmail.com
About Hadstock Village Hall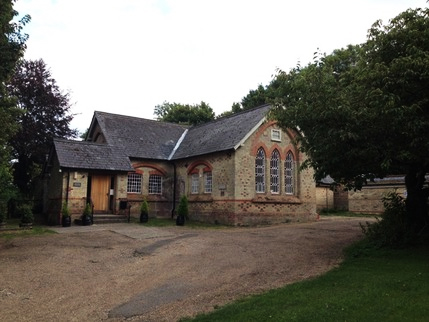 Our Village Hall, an attractive Victorian building, is included in the Uttlesford Heritage List.
It originally housed the village school, has recently been modernised with help from the National Lottery fund, and is located next to the historic Church of St. Botolph in the heart of the village. The Hall is a registered Charity, held in trust for the benefit of the village of Hadstock and is run by a management committee made up of volunteers.
A number of groups use the hall on a regular basis: Hadstock Silver Band, Hadstock Bridge Club, Yoga, and Table Tennis. The Parish council, Hadstock Society and the VH Committee also hold their meetings here.
The hall is also available for non-commercial ad hoc bookings for an hourly rate of £10 for village residents and £15 for non-residents. A deposit may be required. We have a large main hall with raised stage area and an adjoining smaller meeting room, both centrally heated.
Our facilities include; a kitchen with microwave, oven, hob, fridge, heated trolley, cutlery and crockery. Table cloths and tea towels are also available. We have separate toilets for men, women and a toilet for disabled users which also houses baby changing facilities. There is an attractive garden, a large car park to the rear and dedicated disabled parking and entrance.
We have installed sound dampening panels to help visitors with hearing difficulties. We have also installed technology to provide full 4G access within the building enabling internet access to hirers.
How to find us:
Roads from Saffron Walden, Linton and Bartlow all meet at the Village Green. Turn into the small road between the Green and the telephone box and then turn left just past the bungalow. This road is the Church path and even narrower so please drive slowly and carefully. Follow the road as it bears left and you will see the Village Hall on your left and the Church on your right. General parking is behind the Village hall and there is a flat parking bay and disabled access in front of the hall. Please do not park on the Church-yard.
Our postcode is CB21 4PH
GPS    N52 04.741, E00016.424

   Now on facebook.